Governor Hutchinson's weird week made possible by his nephew
Governor Asa Hutchinson and the Governor's Council on Common Core Review recommended to the State Board of Education that it end use of the standardized test by Partnership for Assessment of Readiness for College and Careers (PARCC) and recommended substituting ACT Aspire test.
The State Board of Education by an overwhelming vote of 7-1 thumbed their nose at the Governor and decided to keep PARCC.
The Governor's nephew, Senator Jim Hendren, made this week's embarrassment possible.
Representative Mark Lowery sponsored legislation in the 2015 Regular Session to end the state's use of the PARCC test after June 30, 2015. Lowery's HB1241 passed overwhelmingly in the House of Representatives by a vote of 86 YES, 1 no, 13 not voting.
The bill was then transmitted to the Arkansas Senate where it was assigned to the Senate Education Committee. The committee has 5 Republicans and 3 Democrats.  That is a good sign for opponents of PARCC. Right?  Not so fast Republican Senator Jim Hendren presented amendments to change the bill.  Instead of ending PARCC on June 30 as the House adopted, Senator Hendren amended the bill to limit contracts with PARCC to one year periods, and to provide:
(2) The state board shall take into consideration any recommendations that are made by the Governor's Council on Common Core Review before entering into any contract or agreement related to statewide assessments for public school students for the 2016-2017 school year.
The State Board of Education complied completely with Senator Hendren's language.  They did just what he asked. They took into consideration the recommendations of the Governor's Council on Common Core Review. The state board considered the recommendations and then decided to continue state testing under PARCC.
The State Board of Education is made up of appointees of former Governor Mike Beebe.  But, that can serve as an excuse because they are the same Democrat appointees that Senator Hendren wanted to make the final decision.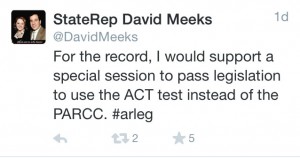 Obviously there is much frustration with the state board. State Representative David Meeks even said on Twitter he would support a special session to end PARCC testing. He was one of the 86 House members who originally voted to end PARCC on June 30.
Would it be odd for the Governor to call a special session to undo language added by his nephew?