Raiding state funding sources for Medicaid
This is the third in a series on Arkansas' General Improvement Fund but it also focuses on the Tobacco Settlement Program Account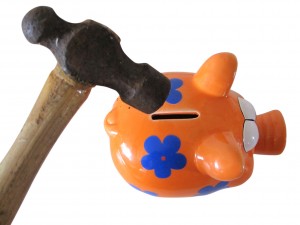 General Improvement Fund
The General Improvement Fund is being used as another piggy bank to support the Medicaid budget. It is not just a small amount of money! Use of GIF for Medicaid is no longer a one-time event. This may not bode well for future Arkansas budgets.
The General Improvement Fund is often characterized as surplus state money used for capital improvement projects.  First, there is no such thing as "surplus" state money.  GIF is merely a fund that syphons off a portion of some other state funds. Second, although GIF was traditionally for one time expenditures instead of as a source of funding for regular operations, GIF is being used to supplement the operations of Medicaid.
In 2012 the Department of Human services (DHS) warned that funding for the Arkansas Medicaid Program was not sufficient and either more money had to be added or cuts would have to be made. People were concerned, think grandma might get tossed out of the nursing home due to future Medicaid cuts.
Governor Mike Beebe said to avoid cuts Arkansas needed to adopt Obamacare Medicaid Expansion. Within a few months the legislature agreed to do just that, but only after they called it the "Private Option."
Did Obamacare take care of the shortfall?  Apparently not. The 2013 legislature added an additional item to the "89th Session Projects Account" within the General Improvement Fund. Act 1518 of 2013 funneled almost $108 million in GIF to the Medicaid program.
Was the raid on GIF for Medicaid funding a one-time thing? No.  In 2015 the legislature again added millions for Medicaid from GIF.  Act 1147 of 2015 set aside $90 million of GIF for Medicaid.  Medicaid's GIF allotment is 37% of all GIF to be distributed.
The 2013 and 2015 legislatures substantially changed the character of the General Improvement Fund by making it a funding source for the operation of the money hungry Medicaid program.
Raid on Tobacco Settlement funds
The General Improvement Fund was not the only funding source to be raided for Medicaid. The 2015 legislature also raided the Tobacco Settlement Program Account by taking a higher percentage out of the account to fund Medicaid. Act 894 of 2015 by Senator Jim Hendren increased the percentage to be sent to Medicaid from 29.8% to 34.2%. This reduces the amount that would have been distributed at the end of each fiscal biennieum.  Act 894 only amends subsection (d) of ACA 19-12-108 so you do not see where the money would have gone.  Subsection (e) say money remaining in the account at the end of the biennieum to the Targeted State Needs Program Account (ACA 19-12-114) and the Arkansas Biosciences Institute Program Account (ACA 19-12-115) and Medicaid Expansion Program Account (ACA. 19-12-116).
Who are the losers from sending more tobacco settlement money to Medicaid? – Targeted State Needs Program and the Arkansas Biosciences Institute.
The Targeted State Needs Program Account provides health funding for:
(1) College of Public Health of the University of Arkansas for Medical Sciences;
(2) Area Health Education Center (located in Helena);
(3) Donald W. Reynolds Center on Aging; and
(4) Minority Health Initiative, administered by the Minority Health Commission
The Arkansas Biosciences Institute conducts research in the following areas:
(1) Agricultural research with medical implications;
(2) Bioengineering research focused on the expansion of genetic knowledge and new potential applications in the agricultural-medical fields;
(3) Tobacco-related research that focuses on the identification and applications of behavioral, diagnostic and therapeutic research addressing the high level of tobacco-related illnesses in the State of Arkansas;
(4) Nutritional and other research focusing on prevention or treatment of cancer, congenital or hereditary conditions or other related conditions; and
(5) Other research identified by the primary educational and research institutions involved in the Arkansas Biosciences Institute or as otherwise identified by the Arkansas Biosciences Institute Board of the Arkansas Biosciences Institute and which is reasonably related, or complementary to, research identified in subdivisions (b)(1)-(4) of this section.
Question for the future
With Obamacare Medicaid Expansion continuing to be in Arkansas' future what will happen when Arkansas has to pay for part of that program?