From Legislator to State Employee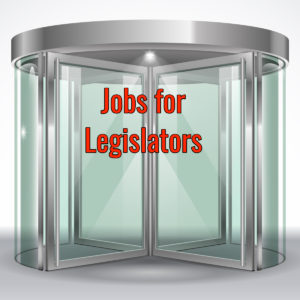 Arkansas prohibits a state legislator from becoming a registered lobbyist for two years after leaving office. Yet, a legislator can leave office and immediately become a well-paid state employee – doubling or tripling the salary he had as a legislator.
Over the last several years many legislators have been hired as state employees upon leaving office. To take a state job, some have even resigned in the middle of a term of office. Does that bother you? Does it bother you that while the Governor is trying to push his agenda through the legislature, a legislator can be working hard to get a job with the Governor?
The revolving door from legislator to state employee did not begin with Governor Asa Hutchinson but it hasn't stopped either. In 2016 two state legislators resigned from office to take state jobs with his administration.
Now is the time to start watching to see which legislators may be in the next wave of state employees.
Several legislators have already announced they will not be running for the legislature in 2018 and since it is still early more may be making that decision. Some may be ready to go home, but others may already be thinking a state job will be in their future.
There are at least two state Representatives who are running for seats held by Conservative Republican Senators, but should these challengers lose, don't count them out as the Governor's favorites for future state jobs.
In fact, you probably shouldn't count any legislator out as one of the Governor's future employees.
What do you think:
·        Should Arkansas law require a cooling off period before a legislator can take a state job?
·        Do you think a cooling off period should be adopted in the 2018 fiscal session?  (Yes, general issues can be added to a fiscal session, if enough legislators approve of the issue being added.)
·        Or, do you think legislators should continue to have the ability to take a state job at any time, even if it means resigning in the middle of a term of office to take the job?
·        Is taking a state job so different from becoming a lobbyist that the two should be treated differently?