Senator Hendren To Grade His Own Paper – Will he finally pass?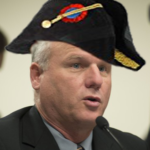 Senator Jim Hendren didn't do well on the scorecards of the three major Arkansas conservative watchdogs.  He decided the poor rankings he received by the three conservative groups wasn't a sign he needed to move away from embracing big government and more taxes. Instead, in a hilariously odd move he decided to do what nearly every teenager wishes he could do – grade his own paper (create his own scorecard).
To view the scorecards of the three major conservative groups in Arkansas click on the organization's name: Conduit for Commerce (fiscal conservative issues and economic freedom issues); Family Council's Action Committee (primarily social conservative issues); and the Arkansas Chapter of Americans For Prosperity (various conservative issues). Click on an organization's name to view their scorecard.
Hendren's  soon to be released self-assessment will need a big curtain to hide big government and left leaning votes by him and his establishment clique.
Some have complained Hendren stole the idea of grading his own paper from another big government politician – Hillary Clinton.  Hillary published her self-assessment in her book "What Happened," which blames everyone but herself for losing to President Donald Trump. We must admit Hendren's self-assessment sounds suspiciously like Hillary's plan.
Rumor has it Hendren will soon sail as commodore on a new project – writing his own version of the "Republican Platform" to match his big government, pro-Obamacare, and tax and spend philosophy.