Asa: A tax cut in 2020 (maybe), if you vote for me in May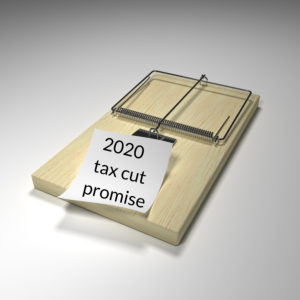 Governor. Asa Hutchinson announced that in the 2019 Regular Session of the Arkansas legislature, he will propose legislation to cut Arkansas' top income tax rate from 6.9 percent to 6 percent. He projects the cut would reduce state revenue by about $180 million. He also said he hopes to make the cut effective in 2020 but it could take longer for full implementation.[i]
If the $180 million figure sounds familiar it is because it is about the same amount Governor Hutchinson wants the legislature to increase the general revenue budget in the current Fiscal Session above the current budget. He wants an increase of $172.8 million over funding in the current fiscal year.
Whenever a politician promises a tax cut isn't that a good thing. But, why would you trust him again?
Political timing. Governor Hutchinson already has an announced opponent in the Republican primary, Jan Morgan. Asa announcing an income tax cut now (that we won't get until at least 2020) is clearly a political stunt.
If he really wanted a tax cut. If Governor Hutchinson really wanted to cut the income tax, he would have no problem getting the legislature to approve the cut in the current Fiscal Session of the legislature. This would allow the cut to happen a year earlier!
Why does the Governor want to wait so long to implement a tax cut? This question is very easy to answer. Every two years, the Governor and other governors before him, each passed a well-publicized tax cut. They do this by basically tithing back a portion of expected revenue growth.  With this plan they always have plenty of money to GROW government while being seen as the tax cut guy. When Governor Hutchinson promises a tax cut so far out in the future he is saying he expects state tax collections to grow enough in two years to fund the cut while still allowing him to grow government without having to address his wasteful spending. Using this plan, every tax and spend governor can be the tax cut guy while increasing the state budget at will.
Can we count on the cut being implemented in 2020? Hutchinson made implementation of the tax cut dependent on future factors. He indicated he expects to implement the tax cut in 2020, but left the door open to the possibility that it might be only partially implemented then with the remainder to come in future years. (Again, it is all about grow government without having to use conservative principles in budgeting.)
He also taketh away. Governor Hutchinson talks continually about his tax cuts but doesn't talk about his tax increases. In 2017 he: (1) increased the sales tax on candy and soft drinks; (2) added a new sales tax on digital downloads (such as your purchases of digital movies, music, and software); (3) imposed the income tax on payments of unemployment compensation; (4) added a tax on mounting used tires; and (5) doubled the special tax on new tires. IN ADDITION, (A) HE STILL WANTS TO TAX YOU WHEN YOU PURCHASE ITEMS FROM OUT-OF-STATE SELLERS WHO HAVE NO NEXUS IN THE STATE; AND (B) HE SUPPORTS AN INCREASE IN TAXES ON GASOLINE AND DIESEL FUEL! Even if he gives a tax break in 2020 his record says he will take it away with other taxes. He giveth but he taketh away.
Can we trust the Governor to follow through on the promise? NO! HIS RECORDS SHOWS – ABSOLUTELY NOT! Remember in 2015 he got the legislature to rescind a tax cut promised by law in 2013. In 2013, the legislature passed capital gains tax relief, but in 2015 before it was implemented he got legislation passed to take it away. Governor Hutchinson wanted to look like a big tax cut guy but to fund his tax cut insisted the Legislature go back on its promised capital gains tax relief.  His plan passed but business owners and some conservative legislators were so upset by the Governor's bait and switch plan that pressure mounted against the Governor. Before the legislative session was over he had to relent and allow new legislation to be passed to restore the promised capital gains tax relief.  While big business has to play ball with Asa, we doubt they have forgotten his ill-conceived bait and switch plan in 2015.
He doesn't want to give you a tax cut now, but if you will just reelect him he says he will give a future tax cut to those in the highest income tax bracket… if tax revenue grows enough to keep increasing the state budget, which is already one of the highest budgets per capita in the country. In the meantime, who knows how many more taxes he will increase.
Again, his plan is the same plan past governors have used to claim to be the tax cut guy while growing government at a high pace.
Why announce a distant tax cut now? Because he needs to look conservative for the Republican Primary. It may work because the media only prints what he says and ignores his tax and spend record.
---
[i] http://www.arkansasonline.com/news/2018/feb/13/governor-issues-tax-cut-call-20180213/