Be Careful What You Brag On As An Accomplishment
Be Careful What You Brag On As An Accomplishment
By David Ferguson
Politicians want to brag on accomplishments, especially during campaign season. But, sometimes politicians get so carried away looking for good news that they brag on things that can sound good but aren't. Such is the case with a recent Facebook post by Governor Asa Hutchinson.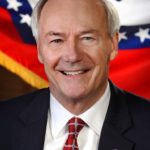 The Governor has been trying to repair his image with Arkansas' gun rights advocates.  Since early 2017, he has received a barrage of criticisms. The criticisms have been especially fierce from Arkansans who see the so-called "enhanced" carry law as a minefield and not pro-Second Amendment.
On January 30, the Governor posted a Facebook message bragging on the number of firearms instructors who are now licensed to provide necessary courses to obtain the "enhanced" handgun license.  This news was supposed to be a sign of efforts to protect gun rights.
His post says:
"I am pleased to announce that over 70 firearms instructors across the state are now eligible to teach the new enhanced carry curriculum. Protecting our 2nd Amendment right is a priority to me; I am glad to see Arkansas becoming even more resolute in our pro-gun right policies."
Here is the problem – firearms instructors know this statistic is not something to brag about. The number of instructors now eligible to teach the "enhanced" training is not a reflection of the success of the "enhanced" license or whether the license is pro-2A or not, nor does it reflect an interest in the "enhanced" license by instructors or the public.
What does it actually show? It only shows that some firearms instructors want to stay in business they have to comply with additional requirement in the new law. An instructor who in the past offered training for the regular concealed handgun license can no longer do so under the new law UNLESS the instructor also offers the course for the "enhanced" license and the instructor must become certified to do so.  If you are a firearms instructor for the concealed handgun license you MUST provide the "enhanced" training as part of your business.  The law says the enhanced training must "Be offered by all training instructors and at all concealed carry training courses".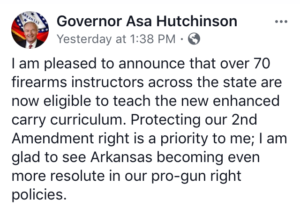 Therefore, the number of firearms instructors who are now eligible to teach the "enhanced" course only shows they want to stay in business despite the additional restrictions imposed on their businesses. I assume there will be more instructors who will decide to stay in the business.  Seventy eligible instructors is not many for Arkansas' seventy-five counties.
Instead of the number of eligible instructors being something to brag on, it reflects a substantial new burden on instructors who want to stay in business – a burden that has caused some instructors to say they will quit.  
Instead of furthering 2nd Amendment rights, the new law may serve to reduce the number of instructors in Arkansas.
The Governor isn't the first and is not likely to be the last incumbent to brag on a statistic when it actually isn't good news.
---
David Ferguson is a former Director of Arkansas' Bureau of Legislative Research, having a thirty-two-year career as an attorney for the Arkansas legislature. After retirement from state service his primary focus has been beef cattle farming. He is also a former officer of Conduit for Action.