Asa & The "Corruption State"
There is a culture of corruption at the state Capitol. Some are full participants. Many others who walk the halls of the Capitol excuse it or knowingly tolerate the corruption, not wanting to offend those with power.
Arkansas news is full of stories of cronyism and public corruption, convictions, guilty pleas, and ongoing investigations.  Legislators, former legislators, state employees, lobbyists, and a judge grabbed the money and are now felons or under investigation. And if you believe the persistent whispers in the state Capitol, many others have offered testimony in hopes of avoiding indictment.
What the public knows so far about corruption in the state Capital is shocking.  But what will we learn from ongoing investigations? And, what corruption will we never know about as investigators toss some politician crooks back to build a better case against other politician crooks? Which politician will be found out next?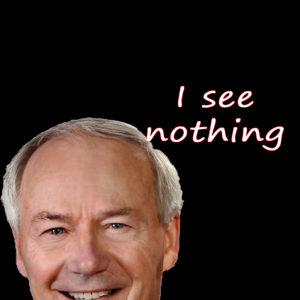 Governor Asa Hutchinson has responded to widespread corruption with nothing more than an occasional sad face.
The Governor sits silent while ethics bills are defeated without his support, while those close to him are investigated or indicted, while his cronies are exposed for questionable ethics, and while state employees are convicted of stealing funds meant to feed children.
Not even Jan Morgan's entry as a candidate for nomination in the Republican Primary (May 22) has gotten Asa to pose as a reformer. (Morgan's background includes being an award-winning investigative television journalist exposing government waste, fraud, and abuse, and she wants to bring smaller, transparent government.)
Is Asa oblivious to what is going on, protecting someone, or just doesn't care as long as he gets his way? Asa (the governor) doesn't sound like Asa (the former prosecutor).
ASA TRYING TO DEFEAT ETHICS REFORMERS
Governor Hutchinson is trying to defeat both Senators who filed ethics reform legislation in 2017. The two Senators, Senator Linda Collins-Smith and Senator Bryan King are from Asa's own party. Sure, these two Senators also opposed the Governor's Obamacare Medicaid Expansion (now called "Arkansas Works") but other Senators also opposed the program but did not get an opponent from Asa.
Senator Linda Collins-Smith filed a bill to stop legislators who are attorneys or "consultants" from representing their clients before the legislature.  Her bill would have directly affected the Governor's family. The bill would have affected Asa's lawyer-legislator nephew, Senator Jeremy Hutchinson who mixes business with politics. Who did Governor Hutchinson endorse to try to unseat Senator Collins-Smith? Rep. James Sturch, who, spent much of his time in the House of Representatives being employed by …. a lobbyist.
Senator Bryan King filed a bill to require Medicaid providers to disclose their financial relationships with public officials.  Medicaid is a huge cash cow that has been raided by corrupt politicians and lobbyists and is at the center of corruption investigations. Shouldn't we know if politicians are getting a cut of the action? Who did the Governor endorse to try to unseat Senator King? Rep. Bob Ballinger who helped kill King's ethics bill in the House committee and who was busy pushing legislation to try to close records from the public view. Ballinger was trying to close records at the same time his law firm was representing Ecclesia College in trying to keep the public from seeing how Ecclesia spent public GIF money – records that could show the involvement of other public officials in corruption.
THE PEOPLE AROUND ASA
We already mentioned Rep. James Sturch and Rep. Bob Ballinger who Asa endorsed to try to defeat the two senators who filed ethics bills in 2017.
SENATOR JAKE FILES: As evidence of wrongdoing piled up against Senator Jake Files, there were calls for his resignation from Democrats and from some Republicans – but months went by and not a peep from Governor Asa Hutchinson. Eventually, Files pled guilty to wire fraud, bank fraud and money laundering. Only after the guilty plea did Asa put on a sad face and call for Files to resign – WELL DUH!
Unrelated to the accusations to which Files pled guilty, the public already knew Files received an $80,000 payment from a nursing home interest after a favorable vote by Files.  And the public knew about the $30,000 loan Files got from a lobbyist. Legislation was even filed and passed to stop it from happening again. But Hutchinson stood by Files.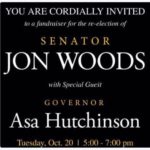 JON WOODS: Governor Hutchinson hosted a fundraiser for the reelection of Senator Jon Woods just eighteen days before Woods unexpectedly dropped out of the senate race. Woods was eventually convicted on multiple counts of corruption involving kickbacks from sending state General Improvement Funds to Ecclesia College, a private college.
There had already been rampant rumors that the FBI and IRS agents were investigating Ecclesia College and Woods and about who had been interviewed. If even we had heard persistent reports of the investigation, how did Asa not know.
Asa knew about Woods' obsession to funnel state money to Ecclesia College. In Woods' corruption trial it was revealed Woods had without success approached Hutchinson in July 2015 about diverting marijuana proceeds to Ecclesia College. Opposition to the plan was it being "marijuana."
If Asa cared anything about ethics and good government, Jon Woods was an odd choice.
Woods was the architect of a constitutional amendment sold as an ethics amendment but was a Trojan horse. The amendment made it harder for the people to pass ethics legislation, claimed to establish term limits when it was weakening them, and set up a system to get big raises for Woods, Asa, and other politicians.
Woods was also the author of legislation to make it nearly impossible for the Ethics Commission to penalize or even investigate a politician who hides campaign or personal financial transactions as long as the politician modifies his report within thirty days after being caught.
Yet Woods was Asa's man.
MICHAEL LAMOUREUX: Governor Hutchinson chose Senator Michael Lamoureux as his chief of staff.  Lamoureux soon came under fire when it was discovered that while being the Senate leader, the Arkansas Faith and Freedom Coalition, paid Lamoureux $120,000 as a "consultant." Much of the organization's money came from tobacco interests, nursing homes, and lobbyists, which is an odd assortment of financial backers for an organization whose name refers to "faith." Asa never criticized Lamoureux, whose name keeps popping up in stories about the cozy relationships between attorney-politicians and big money.
JEREMY HUTCHINSON: Governor Hutchinson's nephew Senator Jeremy Hutchinson is one of Asa's go to guys in the Senate. The Senator has not been accused of a crime, but his name has already come up in the guilty plea of former Senator Henry "Hank" Wilkins and is identified as "Senator A" who was involved in the same legislation as Wilkins was paid to sponsor.
Senator Hutchinson's actions as a legislator are blurred with his actions as an attorney/consultant. He was one of the reasons Senator Collins-Smith filed her bill to keep attorneys from representing clients before the legislature.
BUSINESSES ALLOWED TO BENEFIT FROM CORRUPTION
ECCLESIA COLLEGE: Ecclesia college, whose president pled guilty in the kickback scheme with former Senator Jon Woods and Rep. Micah Neal, received $700,000 in General Improvement Fund grants.  Where did the money go?  We don't know.  Governor Hutchinson has failed to insist that the REQUIRED audit be done on how OUR money was spent. Our question is: Would others be implicated in the scheme if the audit was done as required?
PREFERRED FAMILY HEALTH CARE: Preferred Family Health Care received huge Medicaid contracts from the state thanks to its president bribing legislators.  We know this because of the guilty plea of former Senator Henry "Hank" Wilkins. Has Asa moved to terminate contracts with PFHC? No. He sees no problem with the company benefiting from bribery. His Department of Human Services says it is all better now since PFHC has a new president. No, it is not all better!
HOW ASA DOES BUSINESS
JOBS FOR LEGISLATORS: There is at least the appearance of impropriety by the Governor when he gives a job to a legislator who has voted for Asa's programs, especially when Asa creates a job to give to the legislator.
Governor Hutchinson has rewarded some supporters in the legislature with a job.  He doesn't even wait until the legislator's term is over to offer the job.  He gets them a job and they quickly resign to make more money, leaving a vacancy in office.
Representative Kelley Linck ditched the people of House District 99 to take a high paying job in DHS created for him by Asa.
Representative Bill Gossage dumped the people of House District 82 to take a position created for him by Asa in Asa's own office.
If Asa wins reelection, but his candidates, Rep. Sturch and Rep. Ballinger lose, how long do you think it will be before Asa rewards them for running against conservative legislators by giving them state jobs?
Governor Hutchinson is being sued by a former state employee who claims he was fired because he would not hire an unqualified person wanted by the Governor. The implication being that giving the job to a specific person was a favor to some donor. Asa denies any involvement in the incident. We only mention it here because the positions Asa filled with legislators were positions that were set aside for specific individuals and not open to the public based on merit and qualifications.
UNRESTRICTED DISCRETIONARY SPENDING: When Rep. Micah Neal pled guilty of using his discretionary spending under General Improvement Funds to enrich himself, Asa's solution was – give me the discretionary funds and I'll spend it. His tune didn't change when it was discovered Senator Jake files used his discretionary spending to pocket GIF money or when Senator Files pled guilty of several corruption crimes.  Asa didn't change his tune when Senator Jon Woods was convicted for taking bribes in his use of discretionary spending from GIF. He just wanted his discretionary funds.
Discretionary spending IS THE PROBLEM not who is given the discretion to spend it.
Governor Hutchinson's discretionary spending comes in two areas:
Unrestricted "emergency" funds that do not require an emergency or a public purpose. He will say – but there is a legislative committee that reviews the release of emergency funds. The small committee has NEVER told a governor "no."The news was full of reports about Rep. Micah Neal and Senator Jon Woods directing money to Ecclesia College, a financially troubled private college.  But that gave Asa no pause when he directed your state money to the financially troubled private college, Arkansas Baptist College.
Incentives to favored businesses to locate or expand in Arkansas. This is "picking winners and losers." The losers get nothing but the privilege of paying taxes which are used by Asa to help competitors.
Even without the instances of corruption, at a minimum legislative GIF was a mechanism for a legislator to buy good will.  Asa's discretionary spending is the same mechanism on steroids.
NOT UNTIL YOU GET OUTRAGED
Governor Asa Hutchinson has demonstrated he will NOT be the person to lead Arkansas out of the culture of corruption.  If Asa has his way he will eliminate the legislators who dare to try to make reforms.
Although corruption is rampant in Arkansas and things are likely to get worse, we have not given up. We think our government CAN reform. We CAN have honest leaders who are not out to pick our pockets. We CAN have leaders who are bold enough to hold their colleagues accountable and not tolerate cronyism and corruption. We CAN have leaders who (instead of using religion as a checkbox to get votes) take their faith to heart and stand for honesty and integrity.
It is all up to YOU. How much more will YOU endure before rising up to demand a return to the ideal of officeholders, at all levels of government, being servants of the people? How much more corruption will YOU tolerate before YOU turn up the heat so much that politicians are forced to accept stronger ethics restrictions. How long before YOU cut their purse strings, so they don't have huge piles of money to give to their cronies.
Are you going to be like so many who walk the halls of the state Capitol and turn a blind eye to cronyism and corruption in Arkansas?