Asa's Forgotten Promise – Eliminate all grocery tax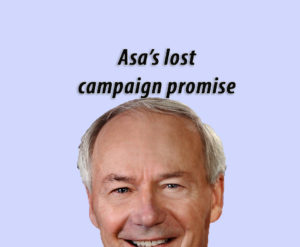 Do you remember when Asa Hutchinson made a campaign promise to eliminate the grocery tax?  He doesn't want you to remember that!
During the 2006 election for governor, Asa Hutchinson proposed eliminating the grocery tax immediately. His opponent, Mike Beebe, proposed only a gradual reduction of the grocery tax. Hutchinson was not elected. Governor Beebe kept his promise and cut out most, but not all, of the tax on groceries.[i]
Despite Asa having made elimination of the grocery tax a plank of his unsuccessful bid for governor in 2006, as governor, Hutchinson has done nothing to eliminate the rest of the grocery tax.
Asa Interviewed on Little Rock's KARK/Ch. 4 in 2006
In addition to ignoring his earlier campaign promise, the tax task force he proposed and that is operating under the guidelines he set is now considering the option of raising the grocery tax back to the full sales tax rate.
Campaign promises are unfortunately too often forgotten by the candidate making them! 
ACTION—remind the candidates of their promises before and after you go to the polls on May 22!
---
---
[i] See: http://www.arkansasonline.com/news/2014/apr/10/score-one-kids-20140410/ and http://www.arkansasonline.com/news/2014/feb/06/taxes-advantage-ross-20140206/