Gov. Asa Says the Darndest Things
Arkansas tax collections are increasing. The Democrat-Gazette reported. "The net in September increased by $34.5 million or 6.1% from the same month a year ago to $604.1 million, beating the state's forecast by $31.4 million or 5.5%."[i]
How did Governor Asa Hutchinson spin the news of more tax collections despite him spending all year bragging on an income tax cut?
"This means we are successfully absorbing the latest round of income tax rate cuts, and we are continuing to pay for important new initiatives such as increased teacher pay and mental health stabilization units across the state."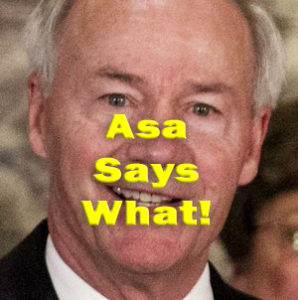 Baloney! The Governor successfully absorbed the income tax cut by … PASSING MORE TAX INCREASES!
To start with he insisted on taxing you on your purchases from out-of-state sellers – INTERNET SALES TAX. And then there were other tax increases– a cigarette related tax, cell phone service tax and a water bill tax.
The increase in tax revenue reported for September doesn't even include his tax increases on GASOLINE AND DIESEL FUEL which just kicked in.
It is not state government that is reducing to absorb the latest round of income tax rate cuts. It is the money in your pocket that is being reduced by other taxes.
---
[i] Democrat-Gazette, State's September revenue tops forecast, 10/3/2019