Just 73 of the 275,000 people on Arkansas Works report working!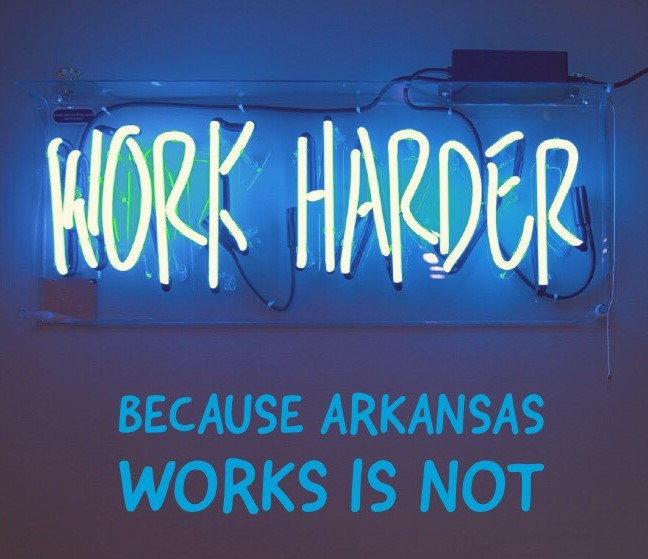 The first round of reporting for new work considerations under the Obamacare Medicaid Expansion program "Arkansas Works" were announced recently. While the Governor and supporters of this effort call them "work requirements", just 73 people out of the 275,000 that are on the program reported work hours.[1] That is just 0.02 of a percent of all enrollees on the program! Governor Asa Hutchinson called these numbers "encouraging".[2]
Several months ago, Conduit for Action highlighted how this work consideration effort was really just a distraction and labeled as a work "requirement". The work consideration requirement was granted through a waiver from the federal government. The Governor has successfully shifted the conversation on Obamacare Medicaid Expansion to where we are debating whether this is an effective work requirement INSTEAD of debating how and when to end a socialist program from a socialist president (Barack Obama). The carefully crafted language argument from the Governor is that he wants to move people from welfare into work. If that is the true goal, this is setting up to be a colossal failure. It seems the actual goal is to protect the $2 billion revenue stream of taxpayer dollars currently flowing to health insurance companies and hospitals and some eventually to elected officials through campaign donations.
Most people are entirely exempt from having to comply with any sort of work/volunteer/education consideration. Only around 25,000 enrollees are currently subject to any sort of work consideration. This group of people are aged 30-49. On average, people aged 30-49 would represent the most likely group to actually be working. If you assume that, the numbers may get even worse when other age groups begin reporting on whether they considered working or taking a class on healthy living.
The Numbers
Of the 25,000 people who were subject to this initial work consideration, over 15,000 were exempt.
Of the remaining 10,304 required to report, 2,395 used the website to report other exemptions. Some of these included:

187 — exempt because receive unemployment benefits
164 — temporarily incapacitated
128 — caring for incapacitated people
79 — being treated for substance abuse
24 — enrolled full time in school or job training program

Only 445 used the site to report that they met the "work requirement"

Of this, 351 reported they met food stamp work requirements
73 reported their work hours
27 reported volunteering
18 reported hours spent looking for work
8 were part time students in school or training programs.[3]
Work Consideration Exemptions
You are automatically exempt from any type of work consideration if:
You live in a home with a dependent child age 17 or younger.
You receive unemployment benefits.
You are pregnant.
You are a full-time student.
You care for an incapacitated person or a dependent child under six.
You are over 50 years of age.
According to an earlier statement from a DHS spokesperson, half of current enrollees would be exempt from any type of work consideration requirement.[4]
Work Consideration Options Available
If you are not in the majority of people that will receive an exemption, you still don't have to get a job or work. You have "options". The work consideration "requirement" states you can choose "between some combination of" the options, as long as you reach 80 hours per month.  (If you are among the group which consider 40 hours per week a normal work schedule…that means people with that mindset are expected to work 173 hours per month–not 80 hours per month.)
Your work consideration options are:
Volunteer
Look for a job (up to 40 hours per month—which is one 9-hour day per week.)
Participate in job search training (up to 40 hours per month—again, one 9-hour day per week)
Participate in activities and programs through the Arkansas Department of Workforce Services
Take a class on health insurance, using the health system, or healthy living (up to 20 hours per year—2.5 days per year)
Participate in "on-the-job" training
Participate in vocational training
Enrollment in an educational program
Actual employment or self-employment work.
So, because of the vast "options", able-bodied, working age adults can work zero hours a month and continue to receive health insurance paid for by the taxpayers and further subsidized by hard-working Arkansans paying more in premiums.
No Loss of Coverage
Of the roughly 10,000 people subject to the work consideration requirement, 7,464 did not report anything on the website. Although they failed to meet the requirement, they will have two more months to become compliant. It is possible there may be some short-term savings by having a few hundred enrollees never report any work considerations. But is that achieving the goal of these requirements – moving people from welfare to work, or just saving money by a small percentage of people never reporting. Either way, it is not a sustainable model for this Obamacare Medicaid Expansion program. Long term there is no set funding source for this program. The only way to continue funding this program is to either shift money from other state agencies or to raise taxes.
Health Insurance Companies Here to Help
To be compliant, enrollees must log in to the state website and report their work considerations or exemptions. Health Insurance companies are now being given the log in information for these enrollees so that they can report on their behalf. The health insurance companies have every incentive to have their enrollees on the program as they receive $500 per month in taxpayer money for premiums whether the person ever uses their health insurance.  (That is $3,732,000 per month in lost premiums to the insurance companies for those 7,464 not reporting.)
Cost of "Work Requirement"
DHS is also working hard to make sure people use the website to report their work considerations. DHS originally estimated the website would cost $2 to $3 million. They stated they have been trying to reach people by phone, letters, emails, and even social media. The state also has an incentive to keep these people on the program because it ensures government growth. For each one of these health insurance plans, a 2.5% insurance premium tax applies, ensuring the state recoups a portion of the racket.
Recently, an article in Forbes highlighted the new costs associated with trying to implement and track a work consideration requirement.[5] While we do not know the numbers for Arkansas yet, Medicaid administration costs in Kentucky rose 40% after implementing a similar work consideration requirement.
Here is a dashboard website for Arkansas Works, including sections on other government program options. The dependency seems to never end!
What to Do? – End the Program
A Democrat Governor expanded Medicaid under Obamacare during Obama's term in office. A Republican Governor has kept it and tried to tweak it with these work consideration options. At the end of the day you cannot put conservative lipstick on a socialist pig and call it a unicorn that magically fixes everything. The only sure way to ensure fiscal responsibility and sanity on this socialist program is to freeze enrollment and wind down the program. Health Insurance paid for through government force is not a right. Just because you use the word "work" repeatedly, it does not mean something is actually working. Arkansas Works is not working for the taxpayers of Arkansas.
[1] http://www.nwaonline.com/news/2018/jul/14/work-rule-trips-up-7-000-plus-enrollees/
[2] http://www.nwaonline.com/news/2018/jul/14/work-rule-trips-up-7-000-plus-enrollees/
[3] It is unclear why or how the breakdown of these numbers reported by DHS to the Arkansas Democrat Gazette do not add up.
[4] http://www.arkansasonline.com/news/2017/may/20/state-seeks-to-log-medicaid-users-work–1/
[5] https://www.forbes.com/sites/brucejapsen/2018/07/22/trumps-medicaid-work-rules-hit-states-with-costs-and-bureaucracy/#2de8309966f5