Is Your "Hometown" Conspiring Against You to Raise Your Taxes?!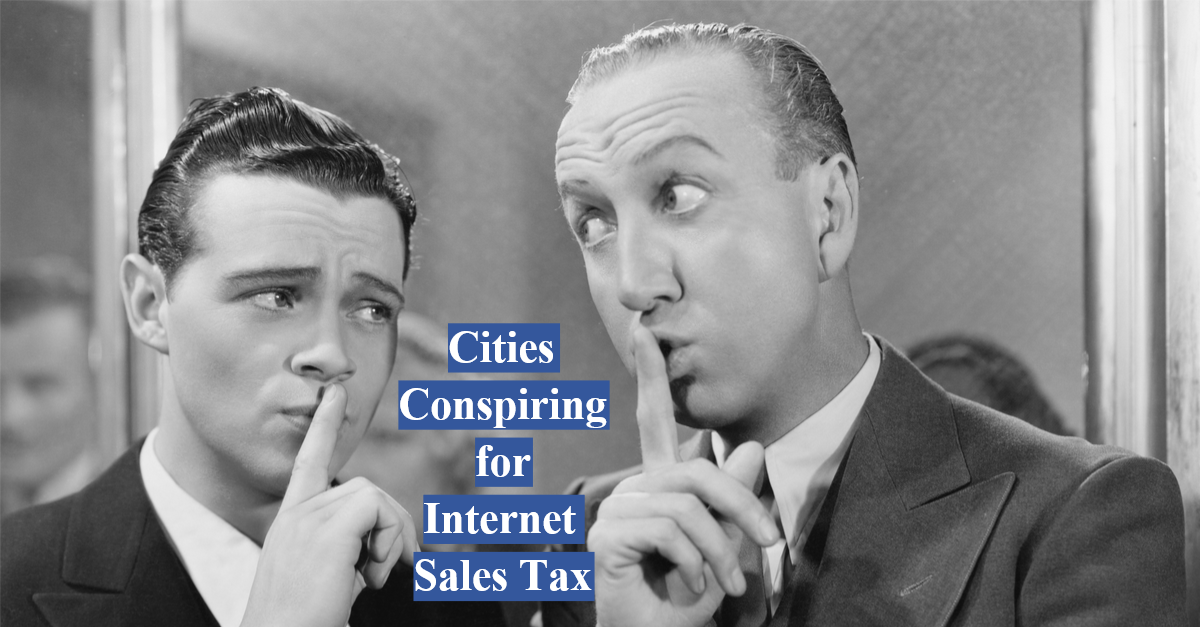 City governments are now conspiring AGAINST taxpayers to get more money! At the insistence and direction of their own lobbyists (the Municipal League) cities are now lobbying the governor and state legislators to pass an Internet Sales Tax.
Reports show that Arkansas sales tax revenue has increases over the last two months. It is reported that the increase is the result of new sales taxes voluntarily collected by Amazon from Arkansas internet purchasers…leaving in the minds of local governments, an untapped gold mine of new tax revenue ($100's of millions annually) yet to be collected from "unwilling" out of state sellers.
As a result, cities around the state are now considering resolutions begging Governor Asa Hutchinson to call the 91st General Assembly back into its second special session of 2017 to pass the once failed Internet Sales Tax on all purchases made by Arkansans from out of state sellers. Thankfully, the governor said he is not going to do so. Let us hope he will keep his promise and not attempt to override the will of the people!
As mentioned, this new tax increase is not new to your 2017 state legislators. The same measure was the most debated topic of the legislative session only three months ago. After several votes, SB140 (internet sales tax bill) failed on the last day of the regular legislative session in the House of Representatives by a vote of 43 to 50.
In its efforts to override the will of its own voter-tax base, Springdale, Russellville, Batesville, and Jonesboro (pending) have already passed resolutions lobbying the governor for a special session to re-consider this new tax increase.
Conduit for Action has covered in depth this unconstitutional, new internet sales tax bill. We have discussed how this bill would suck hundreds of millions of dollars out of Arkansans' pocketbooks and place them into the government coffers—growing Arkansas government by $100-$200 million per year (according to its supporters.) See below for a list of articles on the topic.
Now, action must be taken by you at the local level. Call and email your mayor and city council members and tell them

NOT to adopt any resolutions

which encourage a special session

or any other action

to pass an Internet Sales Tax. A list of cities and their websites for contact information can be found HERE.
Also, call (501-682-2345) and thank Governor Asa Hutchinson for not calling a special session to re-consider an internet sales tax and encourage him to keep his promise.
The only thing that will stop your local government from raising your taxes with a new Internet Sales Tax is making sure a special session doesn't happen…and being mindful that primaries are only months away!
Internet Sales Tax Articles:
Internet Sales Tax Fails, Taxpayers Win……. For Now
11 Reasons to Vote NO on SB140, the Internet Sales Tax
Last chance to stop SB140 – $100 million tax increase on AR consumers
POLL: Arkansans OPPOSE Internet Sales Tax
SB140, Internet Sales Tax, Violates Republican Party Platform
Passing a new Arkansas tax and saying, "It's not a new tax."
ACTION ALERT – SB140 – Internet Sales Tax – Goes to Full Senate Vote