Winrock International, the Governor, and a job to reward a state senator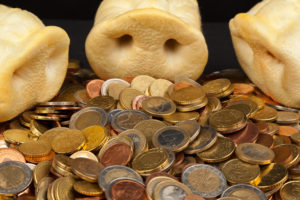 Several readers have asked, "Why is state Senator David Sanders keeping a state funded job when Senator Joyce Elliott was pressured to resign from a job that was only partially funded with state funds."
Senator Sanders was hired by Winrock International to head the Innovate Arkansas program. The program is funded by state funds provided by the Arkansas Economic Development Commission.
Winrock International agreed to be a pass through to hire state Senator Sanders, but the City of Little Rock and the Central Arkansas Library System refused to be involved in a similar scheme in 2012.
In 2012, Senator Joyce Elliott was hired as the director of the program Central Little Rock Promise Neighborhood. The purpose of the program was assisting and educating children in part of Little Rock. The University of Arkansas at Little Rock received a federal grant for the program. The federal grant was the source of most of the money but a local match was required.  UALR and some other entities contributed to the local match. The program was a public-private consortium which also included the city of Little Rock, Central Arkansas Library System, Little Rock School District, Little Rock Preparatory Academy, Arkansas Children's Hospital, University of Arkansas for Medical Sciences, and New Futures for Youth.
Senator Elliott was hired by UALR to head the program but questions immediately arose over whether UALR's hiring of the senator violated Arkansas law.  Arkansas Code Annotated § 21-1-402 generally prohibits state legislators and other state officeholders from taking a state job unless the officeholder first resigns.
Some sought to distinguish Elliott's situation from what the law prohibited due to the job being for a public-private consortium with most of the funds coming from the federal grant.
UALR tried to sidestep the prohibition by urging the city of Little Rock to be a pass through for the funds and to be the employer of Elliott so she would not be employed by a state agency.  The City of Little Rock decided not to be a part of the shady looking arrangement.  UALR also approached the Central Arkansas Library System.  The library system also refused to front the hiring of Elliott.
Both Little Rock and the Central Arkansas Library System refused to be used as a pass through to give Senator Elliott a job. Winrock International took the opposite path and agreed to hire Senator Sanders with state funds.
Granted, Winrock International was already administering the Innovate Arkansas program but the choice was still the same.  Do we take state funds and use it to hire a state senator?
Winrock International has had an excellent reputation, but that reputation is being marred by a very poor decision. We assume Winrock International was pressured to hire Sanders by Governor Asa Hutchinson, but remember the City of Little Rock and the Central Library System were pressured by UALR, and the two still took the high road and said "NO."
Meanwhile it looks like Winrock International will be able to keep the state money coming by keeping Governor Hutchinson happy.
* * * * * * * * * *
There is another important distinction between Senator David Sanders and Senator Joyce Elliott.  Senator Elliott resigned from the job, saying "although some questions about the application of the law to public private partnerships certainly remain unanswered, I feel like I must lead by example, and if I err, I do so on the side of good government and personal accountability."
---
Notes: Source used on Senator Elliott's job from: "Elliott resigns $80,000-a-year child-assist job", Arkansas Democrat-Gazette, May 1, 2012