Would you stand up and walk out on me?
We have all had people who have walked out on us. Left us in a lurch. And we learn…. We learn who we can trust and who is just using us.
* * * * *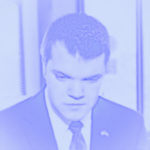 Representative James Sturch physically walked out on the people of his district. He got up out of his seat and walked out the door to kill an election reform bill. He walked out to do the bidding of a few lobbyists and politicians who want an easier path to raise taxes.
Politicians know it is easier to pass local taxes in special elections when the voter turnout is very low. That is why there are special elections at random times throughout the year. Senate Bill 726 of 2017 would have stopped that tactic so that the elections would be held with regular elections when there is better voter turnout.
The bill passed the Senate and was then voted on by the House of Representatives. As the vote board lit up it looked like the bill would pass.  The initial results showed the bill passed and would go to the Governor for his signature, but the results were challenged. That meant the "Yes" votes had to be in their seats and reaffirm their "Yes" vote.  It quickly became apparent with the challenge that the bill would pass by only one vote – Sturch's vote.
Sturch squirmed and fidgeted in his seat as the roll was being called.  He looked at his cell phone and got up as they called "Penzo." As he walked out they were calling "Shepherd." He barely got out before his name was called. His vote was stricken because he wasn't present. The bill failed.
(We posted the video of Sturch walking out in our article "How Rep. James Sturch Killed Special Election Reform by Walking Out.")
It appears Sturch initially voted "Yes" only because he thought the bill was going to pass anyway and wanted to be on the winning side. But when it was clear that his vote was necessary for passage, he got his marching orders and showed his true loyalty.
Sturch walked out on the 29,000 people of his district which includes Batesville, Southside, and the surrounding area. Now he wants to be the Senator from District 19.
What makes you think Sturch won't walk out on the 83,000 people who live in Independence, Izard and Sharp Counties and portions of Fulton and Randolph Counties? James Sturch still has his cell phone, and the lobbyists and politicians will still be calling him to let him know they are still more important than you.
Republican Primary in Senate District 19
SENATOR LINDA COLLINS-SMITH versus
REP. JAMES MARVIN STURCH
Election May 22
Early Voting Starts May 7