Unusual For Incumbent Gov. To Have Serious Primary Race: Why now?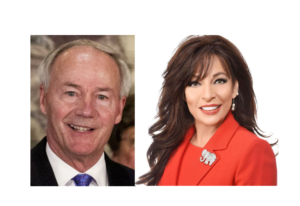 The May 22 primary between incumbent Gov. Asa Hutchinson and Jan Morgan is unlike any we have seen in decades. How? Incumbent governors haven't had a competitive race in their own primary in a very long time.
People born after mid-1972 have never voted in a primary election where an incumbent governor had a competitive primary race. Not since Governor Bill Clinton ran for re-election in 1990 has an incumbent governor had a meaningful primary.
Incumbent governors ran for re-election in 1994, 1998, 2002, and 2010. In two of those years, (1994 and 2010) the incumbent governor escaped without any primary election opponent. In the other two primaries the incumbent governor received at least 85.44% of the vote in his primary.[i]
The only published poll for this Republican primary is the Talk Business & Politics-Hendrix College Poll of 676 GOP voters.  The poll was conducted on April 17-19. In the poll Hutchinson had 57.5%, Jan Morgan 30.5%, and 12% undecided. The poll was reported as good news for Hutchinson, but is it?
First,  the early poll with 42.5%

not saying

"Hutchinson" shows a huge problem for the Governor, considering he has been governor for four years and considering over the past 24 years incumbent governors have had no more than token opposition.
Second, Morgan was relatively unknown to voters. When the poll was done, there were no Morgan campaign signs to be found; no campaign ads for Morgan airing; and the liberal media paid little attention to Morgan, while filling up newspapers and media reports with everything Hutchinson had to say.
Morgan's campaign has been largely word of mouth and social media. Yet, she is being met with large crowds wherever she speaks. Hutchinson and Morgan spoke at separate events in Benton on May 3. She drew the much larger crowd which would not have fit in the venue where Hutchinson spoke.
The positives for Governor Hutchinson are: he has the power of incumbency, a huge campaign war chest to fund his media barrage, and has done a lot of favors.
The negatives for the Governor are: Morgan is an articulate speaker with a solid conservative message of believing "in smaller, transparent, Constitutional government that puts more money and freedom back in the hands of the people." The Morgan campaign has developed into a true grassroots movement. And, Hutchinson is carrying a lot of political baggage from positions that run counter to the traditional republican base.
If you have to ask, "What baggage?" you have been only listening to the liberal media. SOME of Hutchinson's negatives with conservatives include:
Fiscal issues such as:
Broken promises not to raise ANY taxes.
Supporting more taxes even after the legislature refused to pass them.
Spending state funds on "Arkansas Works" which provides Obamacare Medicaid Expansion coverage primarily to able bodied working age people, at a time when Arkansas's disabled citizens are not served or are under-served, and they have had to resort to a lawsuit.
Proposing across the board increases for state agencies without examining whether some agency budgets should be reduced because the programs may not be working or are low priority programs.
Growing the size of government
Social issues:
Insisting the legislature take back the religious freedom legislation it passed and substitute a watered-down version.
Opposing legislation to prevent sanctuary policies on public college campuses.
Opposing the so-called bathroom bill concerning self-identification as the opposite gender.
Refused to sign the law banning Sharia law.
Business issues (Claiming to be business friendly… but):
One of his first actions as Governor was to try to take away the capital gains reform promised by the 2013 legislature.
Keeping Arkansas a high tax state, while giving way money to pick winners and losers in business.
Second Amendment:
Opposing the campus carry legislation to allow the staff of universities to carry a concealed handgun. He insisted the bill be totally transformed into a highly regulated new permit called "enhanced carry." One of the many restrictions required all concealed handgun trainers to teach the enhanced carry course which caused many trainers to quit the business. Even worse, legislators tried to get Hutchinson to fix the trainer issue but Hutchinson refused to include a correction in his special session.
Meeting with the anti-gun group Moms Demand Action which is funded by radical leftist, Michael Bloomberg, but refusing to meet with Arkansas gun rights advocates until after the debate was over.
Refusing to acknowledge that Act 746 of 2013 authorizes true constitutional carry (both open carry and concealed carry without a license)
And if those weren't enough negatives to overcome.  Trump voters in Arkansas remember that during the presidential campaign Hutchinson said: "It is up to Arkansas to stop the Donald Trump show. The next generation of conservatives cannot allow Donald Trump to take everything we stand for and throw it away."
Even if Hutchinson were to be able to use his money and incumbency to drown out Morgan and win the primary, would his negatives be too much to get re-elected in November? The Republican nominee will face a Democrat and a Libertarian candidate. Would conservatives turn out to vote for Hutchinson?
Even back in 2014 liberal editorial writer, John Brummett, wrote he thought Hutchinson, as a Republican, would have an easier time passing liberal legislation than a Democrat governor would. In other words, the Republican majority in the legislature would be more likely to defeat liberal policies proposed by a Democrat than by Hutchinson.[ii] Under that thinking, why would conservative come out to vote for Hutchinson if he were the Republican nominee.
But who knows.  There is still a primary election. And, this is the first time an incumbent has had a competitive primary in very long time.
Republican Primary May 22. Early voting has started.
---
[i] 1994. Governor Jim Guy Tucker did not have an opponent in the Democratic primary. Tucker was the incumbent because he filled part of Bill Clinton's term when Clinton was elected president.
Governor Mike Huckabee received 90.24% in his Republican primary. Governor Huckabee was an incumbent because he filled out Governor Tucker's term after Tucker resigned due to a criminal conviction.
Governor Mike Huckabee received 85.44% in the Republican primary. This was the second time he ran as an incumbent. The partial term he served did not count against his two four-year terms.
Governor Beebe did not have an opponent in the Democrat primary.
[ii] https://conduitforaction.org/flashback-2014-asa-better-chance-of-advancing-liberal-program-than-a-democrat-governor/