Week 4 Legislative Scorecard 2019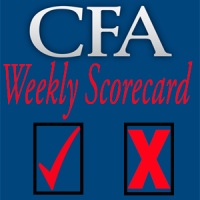 Week four of the legislative session saw some good economic freedom bills progress through the legislative process. Legislation on income tax cuts, housing design freedom, and free speech on campus all passed out of committee or the senate. After failing on the first try, the Governor's income tax cut bill passed the full senate body and now heads to the House side. It is expected to run in the House revenue and tax committee on Tuesday.
You can read details on some of the top stories from last week below, courtesy of Conduit News:
On Monday morning (February 11) the Governor announced his highway funding plan. The Governor declared it was the largest spending increase plan in Arkansas history for highways. More details will be coming, but the price tag is set at $300 million. (Update – the true price tag is $414 million when including city and counties take). $205 million would be a new, permanent implementation of a half cent sales tax, $58 million from a new tax at the wholesale level on gas and diesel that would increase every year, $35 million in dedicated revenue from casinos, and $2 million from a new fee on electric and hybrid vehicles. The bill and more details should be available this week. Next week scope of practice bills will be heard in Public Health committees.
New Bills to Watch:
SUPPORT – SB231 – Expanding Freedom of Information Law
By: Sen. Kim Hammer (R – Benton)
This bill would expand application of the freedom of information law to "a private entity expending a minimum of twenty percent (20%) of its time, resources, or efforts I support of a government entity." Government sometimes set up private entities to carry on taxpayer funded functions. These private entities are then exempt from the freedom of information act, keeping taxpayers in the dark on what the entity is doing with taxpayer money. The bill would capture those entities and make them subject to the Arkansas freedom of information law.
This would increase transparency, expanding access to information on the uses of taxpayer money and government purposes. The "private entity" shield should be pierced.
SUPPORT – HB1284 – Advanced Practice Nurse as Primary Care Provider for Medicaid
By: Rep. Justin Gonzales (R – Okolona)
This bill would allow Advanced Practice Nurses (APN) to serve as primary care providers under the Arkansas Medicaid program. The bill should save taxpayers money by allowing APNs to charge their lower reimbursement rates. It should also increase access to care for those in rural areas where a physician may not be located but an APN resides.
With lower reimbursement rates, taxpayers who pay for the Medicaid program could see savings. Reimbursement rates for lab tests, x-rays, and other tests would still be subject to the physician reimbursement rate. This bill would decrease dependency on government by allowing qualified persons to provide taxpayer funded services for a lower rate while maintaining standards of care.
Mr. David Mitchell from the Arkansas Center for Research in Economics (ACRE) appeared on Conduit News Radio with Paul Harrell to discuss allowing APNs to serve as primary care providers and the potential savings. You can watch that interview HERE and read Dr. Mitchell's piece on this topic HERE.
SUPPORT – HB1412 – No Taxpayer Money for Teacher Unions/Groups
By: Rep. Jon Eubanks (R – Paris)
This bill would prevent public funds to pay for membership dues for a teacher or classified employee's professional organization. This would ensure that taxpayer money is not used for organizing and lobbying activities that a teacher's professional organization may engage in.
Taxpayer money for education should go towards educating children, not for dues in professional organizations. The teacher or employee could still use their salaries to pay for the membership dues.
This bill decreases dependency on government funded lobbyists who may then lobby for bigger government and against school choice. Even more is needed to defund government funded lobbying.
OPPOSE – SB260 – Prohibiting PAC to PAC Contributions
By: Sen. Bart Hester (R – Cave Springs)
This bill would prohibit political action committees (PAC) to contribute to other PACs. This bill was filed as part of an "ethics" package, yet PAC contributions are already disclosed through a transparent process. Any contributions to a PAC above $500 must be disclosed and is publicly available. You can know who gave the donation, their address, employer, and occupation.
While there are necessary ethics reforms needed (Medicaid Disclosure, closing lobbyist loophole, more resource for the ethics commission), contributions to PACs and their involvement in elections is simply free political speech and unrelated to ethics reform. Any further restrictions on free speech in Arkansas should be rejected. Any efforts to stifle or silence political opposition under the name of ethics is itself unethical behavior.