Issue #1 Will Revoke Promised Sales Tax Relief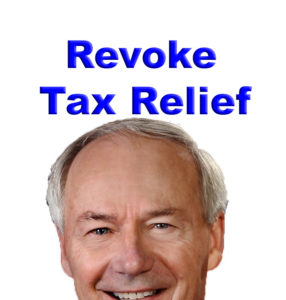 Governor Asa Hutchinson kicked off the campaign for Issue # 1. If passed it will REVOKE THE SALES TAX RELIEF YOU WERE PROMISED BY LAW.
Issue #1 will appear on your ballot in November 2020 and if passed it will impose a permanent one-half percent (0.50%) sales tax to be used for highways and roads. If passed, this tax will be IN ADDITION TO THE GASOLINE AND DIESEL FUEL TAX INCREASES PASSED EARLIER THIS YEAR for highways and roads.
To sell the tax, the Governor is busy saying Issue #1 is not a new tax but a continuation of an existing tax.  Spin all you want Governor; Issue #1 does NOTHING to continue the current extra sales tax. Instead it revokes tax relief we were promised by law. It imposes a NEW TAX once the current tax expires.  The existing tax is for paying off the debt for FOUR-LANE HIGHWAY CONSTRUCTION AND IMPROVEMENT under a plan for specific projects. That is NOT what Issue #1 is about.
In November 2012, the people of Arkansas agreed to add a TEMPORARY one-half percent sales tax dedicated to paying off four-lane construction and improvement.  The debt is expected to be paid off by 2023. The existing tax was sold to voters by: 1. Restricting the purpose to four lane highways; 2. Using a specific highway plan with specific projects; and 3. PROMISING TAX RELIEF once the debt is paid off. The law approved by the people specifically gives tax relief by making the tax temporary.
Governor Hutchinson wants to convince you to vote to revoke your tax relief by voting for the new tax.
According to the Tax Foundation, Arkansas' sales tax rate is the 9th highest in the country and when they compared the combined state/ local sales tax rates, Arkansas has the 3rd highest combined state/ local rate in the country. Issue 1 keeps the Arkansas' sales tax high – one of the worst in the nation.
SAYING "

NO

" TO THE GOVERNOR AND "

NO

" TO ISSUE #1 MEANS YOU WILL GET THE TAX RELIEF YOU WERE PROMISED ONCE THE DEBT IS PAID OFF.
Saying "Yes" means your promised tax relief will be

revoked

and you will be stuck with a

permanent tax!