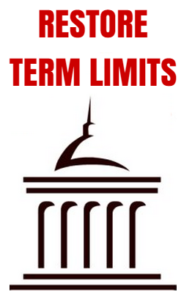 Just last month former Senator Jon Woods was convicted of public corruption including taking kickbacks and bribes and money laundering. Over the course of the Woods trial, a constitutional amendment known as Issue 3 of 2014 came up several times. The defense even tried to argue that Jon Woods improved ethics because he was the lead sponsor of Issue 3 of 2014.
Among other things, that constitutional amendment increased term limits and set up a commission that resulted in the nearly doubling of legislator's salaries!
Since Issue 3 of 2014 passed, concerned citizens around the state have been fighting to restore term limits to back to their levels before Jon Woods helped change them. They are trying to fight against setting up a system for career politicians in Arkansas.
A group called Restore Arkansas Term Limits have been getting signatures to put a new constitutional amendment on the ballot to return term limits back to their pre-2014 levels. The following information was sent to Conduit for Action about their final push to secure petition signatures to place the proposed amendment on the ballot.
In 2014, Arkansas Legislators used a deceptive ballot title to trick voters into lengthening the amount of time they can stay in office by nearly triple.  Voters thought they were voting for legislative ethics reform.  Instead, politicians tripled their pay and gutted voter approved term limits.   Up to 22 years in office is not term limits, it's a career.

Arkansas Term Limits has been collecting voter signatures for 18 months to get real term limits for Arkansas Legislators on the 2018 ballot.  Over 112,000 Arkansas voters have already signed the petition.  With just two weeks to go, we still need about 10,000 more signatures to get on the ballot this fall.  With your help, we can make it.

What you can do
1)  Call or text Arkansas Term Limits at 501-590-8260 to get blank petition sheets mailed to you, or request them from their website at  http://arkansastermlimits.org/petition.htm .  Simple instructions will be included.

2)  Ask like-minded friends, family, neighbors, and others to sign your petition.

3)  Get your petition sheets notarized and return them to us by June 30.  Many banks offer notary services to their customers free of charge.

4)  Mail the petition to us at: Arkansas Term Limits * P.O. Box 242774 * LR, AR 72223

Remember, time is short.  Every signature counts.  The petitions will be turned in to the Secretary of State on July 5, 2018.  Try to get the petitions in before that date to allow time for counting and tabulation.

Act now!  We can't put them in jail for deceiving voters, but we can put them out of office.
Conduit for Action supports restoring term limits in Arkansas and encourages everyone to sign the petition!