Biden & Ukraine – Asa & China
Governor Asa Hutchinson is one of the few Republicans to join Democrats in calling for a probe of of President Donald Trump for urging the Ukraine government to investigate former Vice President Joe Biden and his son Hunter Biden.[i]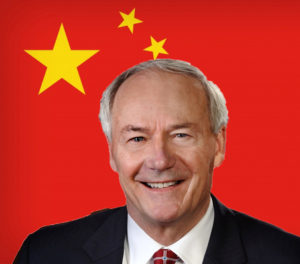 Now questions have arisen over whether Hutchinson and his son, Asa III, have their own Hunter Biden type situation, but instead of it being with the Ukraine… its China.
Was the Hutchinson Chinese connection a factor in the Governor wanting to investigate the President and not Biden?
You may recall, while Joe Biden was Vice President his son Hunter Biden got a sweetheart deal of $50,000 a month to sit on the board of a Ukrainian gas company despite no experience in the industry. When the Ukrainian government began investigating the company for corruption, Joe Biden and the Obama administration pressured Ukraine to drop the investigation.  Enter President Trump, who urged Ukraine to restart its investigations, and since then the media focus has not been on the money making Biden scheme but on whether Trump offered something or withheld something to Ukraine in return for them investigating Joe Biden, a potential opponent in the 2020 election for president.
Governor Hutchinson's son, Asa Hutchinson III, posted this on his Linked-In social media on Tuesday, "Despite the tariff wars, state and local governments in China and the U.S. can still collaborate to strengthen our economic ties. Thank you Tianyuan Garments for bringing us together! #trade" His post included this picture of him and his father with the Chinese delegation.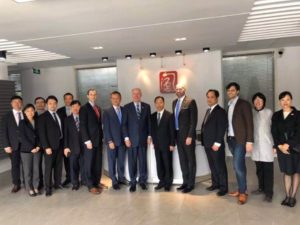 On Tuesday Asa III also posted about more Chinese connections. On Facebook,he posted he was in Beijing, China at the residence of the U.S. Ambassador.
The posts by Asa III caused alarm bells to go off at Conduit because we keep seeing the Governor cozy up to China when other Republicans have looked at them with suspicion. We wondered whether Chinese companies were using Asa III like the Ukrainian company used Hunter Biden, only in this instance to get Arkansas taxpayer money through incentives, cut through the red tape of the Hutchinson administration, and perhaps to get Asa to okay the release of discretionary funds.
Does it look like the Biden Family …. er … Hutchinson family is cashing in on the Governor's power and influence and his control of piles of your money?
Governor Hutchinson has championed Chinese business at a time when the Trump administration is trying to stop China's unfair advantage in trade.  At a time when Arkansas Congressman Rick Crawford, who is on the House Intelligence Committee, is warning Arkansas businesses  – Don't trust China. And it comes at a time when China is still demolishing churches and mosques and arresting their followers.
Did you know the Governor still has a law firm, the Asa Hutchinson Law Group? He and his son Asa III are listed as lawyers in the firm.  The Governor's ethics form does not show any income from his law firm, the Asa Hutchinson Law Group, so either he is not taking any money from the firm while he is in office or he is taking income below the reporting level.  Even if the Governor is not taking a penny from the law firm right now, he is still lending his name to the business which benefits his son and growing the law firm for the future after he is no longer in public office.
Next let's look at who the firm lists as clients and see if there is any chance there are any Chinese clients.  Oh, yes. The firm represents Ty Garments, a Chinese company with a factory in the Little Rock area and which has benefited from Arkansas incentives, in other words your tax money. And then there is Risever another Chinese company that recently located in Jonesboro after receiving incentives funded by your tax money.
While Asa's Arkansas Economic Development Commission is giving your money to Chinese companies to locate in Arkansas, the Asa Hutchinson Law Group is cashing in by representing the Chinese companies considering coming to Arkansas or wanting a smoother ride after locating here.
Conduit News with Paul Harrell broke this Wednesday morning and some other media followed suit. It will be interesting to see how or if other media cover the issue.  What will the Governor say. "Nothing to see here or ….. it is Trump's fault somehow."
What do you think about the Bidens … er …. Hutchinsons cashing in on China and using your money to do it?
What about the other clients of the Asa Hutchinson Law Group? First, there are other foreign companies and some big-name domestic companies. Are the Bidens … er …. Hutchinsons making money from any of these clients who want an easy path to Arkansas taxpayer money and an easy path through the regulations of the Governor's administration?
AND THERE IS MORE!
Tune in to CONDUIT NEWS with Paul Harrell on Thursday 11/7/2019 to hear details about another client and contracts. Thursday's show is on live from 6AM to 8PM but the show is always available.
---
INSIST ON ETHICS REFORM! Despite all the corruption in the past few years, Asa never proposed ANY ethics reform. Humm???
---
For further coverage of the Biden …. er…. Hutchinson-China relationship see these Conduit News videos.
---
[i] https://www.arkansasonline.com/news/2019/sep/27/arkansas-governor-says-trumps-call-ukraine-leader-/; https://www.arkansasonline.com/news/2019/sep/28/hutchinson-backs-further-inquiry-201909/?news-politics